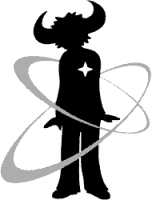 Jamiroquai funk odyssey started in the early 90's, when funk-fascinated Jay Kay entered the music industry. Jamiroquai has generated amazing numbers since 1993, having sold more than 21 million albums worldwide. The six albums released have been an important impact in the Funk genre in the last years. "Success is when I see all those people standing out there in front of me having a good time, and knowing that you've got a great album on your hands that you enjoy as much as they do�, recalls Jamiroquai vocals and leader Jason Kay.
"Jamiroquai is the name of a feeling - its about remembering where you're coming from and the band is about expressing that feeling through great tunes�

The Name
In the 1999 "Vibe, JK NY� Interview Jay said: "I'd come in one night and seen this spaghetti western playing on TV. I was stoned. There were the horses�, -Kay imitates the sound of jetting hoof beats- "The Indians, and the horns. I could see that all these elements were so like my hat!� Instantly, he conflated the name of a Vietnam-era helicopter (the Bell 1H2V Iroquois), the Native-American reference "(I did my reading and found out it was part of the six tribes who hang around the New York region�), and the notion of jamming to get to that fairly magical made-up name, Jamiroquai. "I could almost see it then� Kay recalls, "Ladies and gentleman, Jamiroquai!�
Jamiroquai is a name derived from the Native American Iroquois tribe combined with 'Jam', as in musical jamming.
The Hat
Another element of Jay's visuals are his hats. He's well know as the "Cat in the Hat" and it's a proper name for a person who wears hats since its a kid. He has wore a significant number of different hats in all colors, sizes, models during all the his career.
The Buffalo Man
Buffalo Man is the name of the character featured on all of the British band Jamiroquai's album artwork. The Buffalo Man was created sometime prior to 1992. It was originally sketched by the band's primary songwriter and front-man Jason Kay as Buffalo Man is seemingly a self portrait silhouette of Jason wearing a buffalo hat. The mark has been used on every commercial release of the band's output in some form or another; usually the unique symbol is pictured unaltered, but there have been times where it is shown in a stylized manner to suit the artwork or song.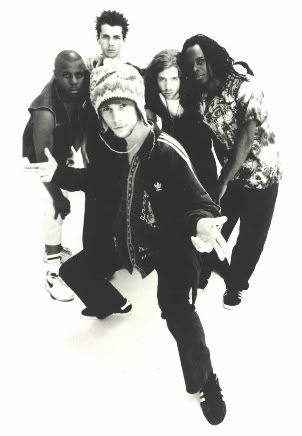 The Band
With its disco-jazz grooves and Jay's soulful, Stevie Wonder-like vocals, Jamiroquai has experienced chart success. As the band had suffered several lineup changes during their career, singer/songwriter Jason Kay (aka J.K.) has remained those many years. After moving to East London with his mother Karen Kay, a jazz singer, in his teens, Jay found himself homeless after a fight with his mum. After leaving home at the age of 15, Jay Kay found himself in trouble with the law. Jay Kay decided to return home, after a near-death experience and being arrested for a crime he did not commit, he decided to do something different, it was music. Jay Kay auditioned to be the singer of the Brand New Heavies, and unsuccessfully, he decided to put together his own band. Then, he quickly came up with his future project's name: Jamiroquai. The band consisted of Stuart Zender (Bass), Toby Smith (Keyboards), Nick Van Gelder (Drums) and Wallis Buchanan (Didgeridoo).

Jamiroquai's first single, 'When You Gonna Learn'
"bit of disco, jazz inflections and a didgeridoo in the blender�
takes on everything from racism to corporate greed. The single was a success and was soon followed by a long-term and lucrative recording contract with Sony. The band's debut album "Emergency On Planet Earth� crashed straight into the charts at Number One and resided there for several weeks. It followed the single and became a hit in England, throwing such hit singles as 'Too Young to Die' and 'Blow Your Mind'. Nick Van Gelder was voted 67th in the top 100 beats of all time for his drumming on 'Revolution 1993' in a poll in Rhythm Magazine!. Lately, Nick Van Gelder leaves the band for disagreements with the other band members.
Stuart Zender explains: "Yes, Jay really liked his playing because he was quite a solid drummer compared to what he was used to; I guess he was used to drum machines before Nick. But our ideas moved on and Nick's didn't. He's very talented but we couldn't really communicate with him. It got to the stage when there was nothing there. It was a breath of fresh air when Derrick (McKenzie) came in. With Derrick's attitude in the band we've all got a better working relationship with each other, it's all growing. It's not necessarily Nick's fault that it didn't get like that, it's just timing. Three bloody years of not holding on to a speeding bullet�. Already being a fan of the "Emergency On Planet Earth� album, a friend set Derrick McKenzie up to audition as drummer when Nick Van Gelder left the band. Six and a half hours after his second audition in January 1994, he got the part.

The band's second Jazz Funk release, The Return of the Space Cowboy in 1995, is much more interesting than the title song or its mildly engaging video, it's crisper, fuller, more relaxed, it's managed to steer Jamiroquai clear of the sophomore jinx. Solá Akingbolá joined the band in early 1995 after the previous band percussionist Maurizio Ravalico left. Derrick had heard about Solá, contacted him and then went around to his house to talk and listen to some records. After a couple of hours, Derrick was convinced and went back to tell the band that they should bring Solá on board. Solá didn't have an audition and joined the band almost immediately, and the rest is history. Jamiroquai's second guitarist Simon Katz joined the band when previous guitar player Gavin Dodds left the band the same year. Previous drummer Nick Van Gelder played drums in the song 'The Kids'.
What always stands out is the music of this album, a beautiful and rich synthesis of sound that incorporates instruments like the Aboriginal didgeridoo with Jazz and Funk, incredible bass lines, and sweet drums. Numbers like 'Space Cowboy', 'Scam', 'Mr. Moon' and 'Stillness in Time' really take you away.
"I've not been out there as much seeing all the sh*t that goes on like I did when I was struggling – I've been touring, writing and experiencing so called 'success' that's not really 'real' but it's been my reality for a year so there's a lot on the album about what's gone on inside my head as well as what we all see on the news�.

Jamiroquai's more mature work thus far went in 1996: "Travelling Without Moving�. The album spawned the worldwide hit "Virtual Insanity� for which an award-winning video was filmed and helped the album achieve platinum status in the States by the year's end (as well as a highlighted performance at the 1997 MTV Video Music Awards). Travelling Without Moving was written by the band and produced by front man Jason Kay with Al Stone.
"Its funkier and catchier than our past records. I wanted this to be an up album, with memorable choruses and stronger hooks. That's something I hadn't exploited before.�
Jay Kay explained.
Stuart Zender left Jamiroquai during recording of Jamiroquai's fourth album "Synkronized� because of conflicts with lead singer Jay Kay, which resulted in Kay scraping almost an entire album's worth of new tracks in order to start from scratch with a new bassist. The circumstances behind his departure have never been fully revealed, but Stuart explained that he felt that he (and other band members) were not being fairly compensated financially, and were not being credited for assisting in songwriting. He also stated that he tendered his resignation to spend more time with his family. Jamiroquai contributed a brand-new track, 'Deeper Underground' to the soundtrack for the movie Godzilla in 1998.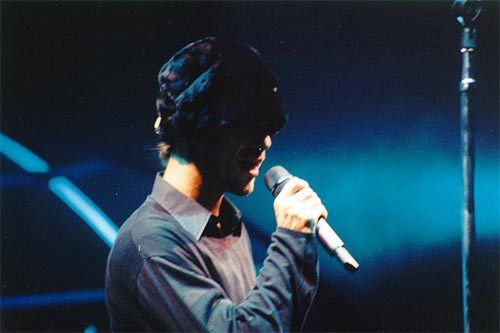 Nick Fyffe joined the band in 1998 as the replacement for Stuart Zender. "I moved to London and started answering ads in Melody Maker� explained Nick, to be in a Jamiroquai tribute band, and, while awaiting a response, he read that Stuart Zender had left the band. He rang Jim Carmichael from Freakpower, who'd supported Jamiroquai on tour, and asked to put him in touch with them. Soon after, Nick found himself auditioning for the real Jamiroquai. The same day Jay Kay offered the job to Nick, a guy from Melody Maker called him and offered an audition. The guy was speechless when Nick told him he was now the new Jamiroquai bass player.
Jamiroquai's fourth album "Synkronized� released in 1999, was ignored by the American masses until the commercial success of 'Virtual Insanity'. The last two albums: 1996's "Travelling Without Moving� and 1999's "Synkronized�, shifted over 11 million between them. Lovely bass grooves, funky chords and lush string arrangements are laid over commanding dance beats on 'Canned Heat', 'Planet Home' and 'Soul Education'. For an added dose of pure '70s flavor, a kicking horn section is stirred into the mix on 'Black Capricorn Day' and 'Where Do We Go From Here?'
"Well apart from working hard, it's because I follow my heart and do what I think is best to do for me, so therefore I'm sort of. I feel that I'm synchronized�.
Jamiroquai's guitarist Simon Katz left the band in the year 2000, for the same reasons as Stuart Zender. Simon Katz was replaced by Rob Harris, who co-wrote a number of tracks on the "A Funk Odyssey� album.

After the release of "Synkronized�, and a world tour, Jamiroquai has made some changes on its lineup. The brass section, Yidakki and DJ were dropped out of the band, due to Jamiroquai's new musical directions. The Dance/Funk computerized album "A Funk Odyssey� was released in 2001 by the hands of Sony. Soul singer Beverley Knight recorded backing vocals with Jamiroquai in the track 'Main Vein' and lately, they were touring the world. She performed backing vocals in songs as 'Love Foolosophy' and 'Main Vein'. Jamiroquai contributed then to the soundtrack of the movie "Titan AE� with the song 'Everybody's Going to the Moon'. The song continues the electronic vibe the band has been on.
"I think 'Corner Of The Earth' is pivotal� says Jay Kay, "It sums up where I live really. It sums up where I am and I think it speaks for anyone who's in a place or a moment where they're happy. Its a spiritual song in a sense. I really am quite proud of it, I think lyrically it flows and twists really nicely. I think 'You Give Me Something' and 'Little L' are also great for a band like us because they're simple and straight to the point - kind of anthemic. 'Picture Of My Life' is just what it says, its how I felt at the time. To be honest I cried when I wrote the words, if that gives you an idea. Because it really is so straight from the heart. And it gets me every time.�
"A Funk Odyssey� is Jay's most personal work. On it, he opens up about his relationship with British TV personality Denise Van Outen, about his past cocaine dependency, and about his disdain for tabloid journalists. Toby Smith left the band in May 2002 in order to spend more time with his family and Nick Fyffe left Jamiroquai during Summer 2003. Matt Johnson joined the band in 2002, for Jamiroquai's recommendation of previous guitarist Simon Katz.

After 4 years off recording, Jamiroquai released their last album 'Dynamite'. Funk charged, incredible basslines, sublime keyboards and groovin' drums, 'Dynamite' is Jamiroquai's new proposal. During the recording of 'Dynamite', a number of different bassists were used, and during early promotional gigs in 2005, Randy Hope-Taylor and Richard Murphy played for Jamiroquai. Paul Turner joined the band in March 2005.
Hits like 'Seven days in Sunny June', 'Starchild', 'Don't Give Hate a Chance' and 'Time Won't Wait' makes this album a beautiful piece of Jazz/Funk with electro grooves. Jay Kay's supreme vocals in 'Talullah' really show he's still in the touch for composing such beautiful songs and to sing it as he did 10 years back.
Jamiroquai is due to release a 'Greatest Hits' album in fall 2006, followed by a world tour.
Jamiroquai: The Live Band
Jamiroquai is well known worldwide for its live acts, and why is that? Just because of Jay Kay's amazing dance steps and live improvisation. They have performed so many gigs since they hitted the UK scene in 1993. The amazing solos, improvisations, singing, dances, and all the stuff makes Jamiroquai be one of the best bands actually. Jamiroquai is also well known for the covers they play live: Stevie Wonder, Kool and the Gang, James Brown, Rolling Stones and a few others. Their Yidakki and brass arrangements they did in the past were the beautiful ones. Actually, the sets are more structured, longer, with more songs. Jay Kay added three backing vocals to his band's lineup in the year 2001 for the "A Funk Odyssey Tour�.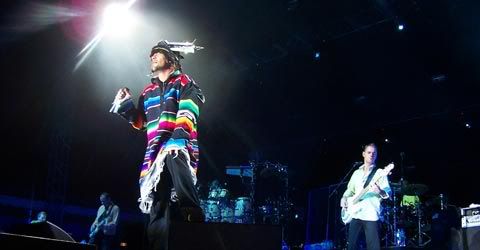 The actual Jamiroquai Line-Up is:
Jay Kay - Vocals
Derrick McKenzie - Drums
Solá Akingbolá - Percussion
Rob Harris - Guitars
Paul Turner - Bass
Matt Johnson - Keyboards
Lorraine McIntosh - Backing Vocals
Hazel Fernandez - Backing Vocals
Sam Smith - Backing Vocals

Past members:
Toby Smith - Keyboards (1992-2002)
Wallis Buchanan - Didgeridoo (1992-2001)
Gavin Dodds - Guitar (1993-1994)
Simon Katz - Guitar (1995-2000)
Stuart Zender - Bass (1992-1998)
Nick Fyffe - Bass (1998-2003)
Nick Van Gelder - Drummer (1993)
Darren Galea aka DJ D-Zire - Turntables (1993-2001)
Adrian Ravell - Flute, Saxophone
Winston Rollins - Trumpet
Simon Carter - Keyboards (1999-2001)
Guest appearances:
Andrew Levy - Bass (1992)
Simon Bartholomew - Guitar (1992)
Martin Shaw - Trumpet
Beverley Knight - Vocals (2001)
Written by Edgar Padrón.
02/06/2006
Sources:
http://www.funkin.com/
http://es.wikipedia.org/wiki/Jamiroquai
http://www.mtey.com/